July 12 - 19, 2008
A Women's Retreat Combining Play With Subtle-Energy Work,
and the Power of Women's Wisdom Hosted at a Wilderness Resort.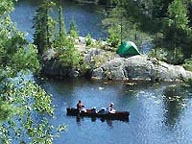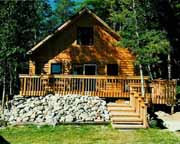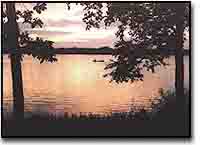 Join Rebecca Kali and Cis Hager
at the edge of the Boundary Waters Canoe Area Wilderness near Ely, Minnesota
for a special week long retreat for women.

* Experience Rest, Relaxation and Renewal of Your Mind, Body and Spirit.

* Learn Tai Chi and Qigong under ancient pines,
and along the shores of crystal clear lakes in the famed pristine wilderness of the BWCAW.

* Practice and play with techniques to reduce stress, increase energy, promote vital aging,
health and healing which have been handed down from the Women's Wisdom of traditions that are thousands of years old.

* Gourmet meals specially prepared by Professional Chef Robyn.

* Comfortable, cozy lodge setting.
~ ~ ~ ~ ~ ~ ~ ~ ~ ~ ~ ~ ~ ~ ~ ~ ~ ~

Qigong, Taiji and Subtle-Energy Work Activities

Learn the Phoenix Style Taiji – a style specially developed for women
Acupressure techniques for Women's Health
Qigong grounding & centering practices to reduce stress
Qigong to balance metabolism & regulate weight
Anti-aging techniques for women
Qigong for Breast Health
Meditation
Connecting with nature's energy
Women's Spirituality
Guest presenters
New and exciting activities

~ ~ ~

Optional Play Activities
with the group or on your own
Free time
Explore the
BWCAW
Hiking, Canoeing or Kayaking
Bird watching, Wild berry picking, Learn native plant lore
Relax in a Steaming Finnish Sauna
International Wolf Center http://www.wolf.org
North American Bear Center http://www.bear.org
Dorothy Molter Museum (BWCAW's last resident) http://www.rootbeerlady.com
Downtown Ely: featuring, art galleries, outdoor apparel, local crafts, etc.

~ ~ ~ ~ ~ ~ ~ ~ ~ ~ ~ ~ ~ ~ ~
About the presenters:

Rebecca Kali:
has practiced meditation for over 40 years, and subtle-energy work for 12. She is founder of the International Qigong Alliance and the former Executive Director of the National Qigong Association. Rebecca has studied Qigong in hospitals in Beijing and Taoist philosophy and meditation techniques in monasteries and temples throughout China. She leads Qigong and Daoist sacred journey - off the beaten path tours to some of the most sacred and spectacular sites in China and Tibet. She teaches many forms of Meditation, Daoist Inner Alchemy and Qigong including: Chinese Soaring Crane, Eight Brocades, Medical Qigong and Qigong for Fibromyalgia and Chronic Pain. Rebecca lives in Ely, MN.
Rebecca can be reached at:
Click here to Email Rebecca:
Phone: 218-365-6330
Website: http://www.dao-of-well-being.com
Website: http://www.qigong-alliance.org
Website: http://www.qigongchinatrip.com
Cis Hager:
has studied Chen Style, Yang Style, Phoenix Taiji, sword, push hands, Taoist and Buddhist Qigong since 1985. She is a former tournament competitor and competition judge. Her video, Tai Chi for Women, will be available at the retreat. Cis lives in St. Louis, MO.
Cis can be reached at:
Click here to Email Cis:
Website: http://www.stltaiji.com
~ ~ ~ ~ ~ ~ ~ ~ ~ ~ ~ ~ ~ ~ ~
Qigong Women in the Wilderness
Comments from our retreat members:
The Qigong Women in the Wilderness Retreat was a gathering of women who share a common interest in health, love of nature, energy healing, spirituality, and openness to learning about eastern traditions. All this and wonderful food and camp fires too! Nancy Russell
Cis and Rebecca are excellent teachers. It was wonderful to learn Tai Chi and Qigong under the trees, on the bedrock and dock. And it was fun to balance that with swimming and boating. Life is good when one can stand under the pines, listen to the wind ripple the aspen leaves and practice Tai Chi and Qigong on glacier worn granite. Sarah Hansen
Magnanimous – it helped me see how I can incorporate nature into my qigong, meditating with a much better understanding and knowing specifically what I can do and practice each day. Mary J. Bohnert
The QWW retreat was like coming home to a very functional family with Cis and Rebecca reaching out to nourish our body and soul. Marilyn Kiloran
A week in a beautiful setting, with more to it than the conventional "vacation". Activity for the body, mind and spirit, with a group of interesting women. Susan Helland
The QWW retreat was a merging of Chinese energy exercises in a positive inspiring setting with very companionable like-minded women. Anonymous
It was a unique experience with a diverse group of extraordinary women. Learning how to create and maintain "Qi" and total health. Kay Marie
An unforgettable and invaluable experience of learning, energy and camaraderie. This has been a life altering moment along my path. I thank Cis and Rebecca for sharing their knowledge and experience. I am most grateful that I had the opportunity to learn and share with you. Nancy Galbraith
This was just the absolute best time for me. I really needed this – like summer camp for women! It was really wonderful being with like minded people, learning, developing and making new friends. J. Stickney
The Qigong Women in the Wilderness Retreat is an opportunity to share experiences with other women, learn about yourself and ways to heal through Chinese Traditional Medicine theory which has been practiced for centuries with proven results and spiritual benefits. The retreat is a way to build new friendships, learn new information about health and the health benefits of natural foods, meditation and qigong. Anonymous
Connection with the energy of the out of doors; moon, trees, water, earth, etc. P. Gillett
The QWW Retreat was a great learning experience facilitated by very qualified and knowledgeable teachers with great opportunities to experience both learning and relaxation with like minded people. Jackie Anderson
~ ~ ~ ~ ~ ~ ~ ~ ~ ~ ~ ~ ~ ~ ~
Lodging and retreat location:
Timber Trail Lodge on beautiful Farm Lake, is in the heart of Superior National Forest. We will stay in both Diamond Willow and Evergreen Cabins, spacious, two-story cabins featuring hand-scribed log furniture, knotty pine interior, large stone fireplace, deck overlooking lake, private dock, lakeside fire ring, walking trails and more....
629 Kawishiwi Trail - Ely, Minnesota (Take a virtual tour) http://www.timbertrail.com

Ely, Minnesota is the home of the Boundary Waters Canoe Area Wilderness (BWCAW), A federally protected wilderness area located along the Canadian Border, the BWCAW is over one million acres in size, contains hundreds of lakes & rivers, has 1200 miles of canoe routes and is home to abundant plants & wildlife, including threatened & endangered species. As the main doorway to the Boundary Waters, Ely, Minnesota offers many options to experience this exceptional area of protected, pristine wilderness. There are 20 different entry points to access over 1,500 miles of canoe routes, 2,000 solitary campsites, and numerous hiking trails. http://www.timbertrail.com/ely-minnesota-bwca.html

Arrival – Departure times:
Arrive Saturday, July 12 - check in time 3:00 pm
Depart Saturday, July 19 - check out time 9:00 am
~ ~ ~ ~ ~ ~ ~ ~ ~ ~ ~ ~ ~ ~ ~
Travel directions:
Ely, Minnesota is about 120 miles north of Duluth (2 hrs by auto), or about 250 miles north of Minneapolis (a 5 hour car trip) Timber Trail Resort is located just 7 miles east of Ely on Kawishiwi Trail (County Road #16). Shuttle service is available from the Hibbing or Duluth airports to Timber Trails Lodge. Contact us for information on shuttle service fees and schedule.

~ ~ ~ ~ ~ ~ ~ ~ ~ ~ ~ ~ ~ ~ ~

Meals:
Gourmet dinners will be specially prepared for our group, from scratch, using the freshest natural ingredients. (vegetarian options are available)

~ ~ ~ ~ ~ ~ ~ ~ ~ ~ ~ ~ ~ ~ ~


Registration:

Registration fee:
$ 1,700
Includes lodging, meals and all instruction
$ 450 additional for a private room

Commuter registration fee:
$ 1,200
Includes meals and all instruction

* Space is limited and registration fills rapidly for this retreat - register early *

* * * * * * * * *
3 ways to register:

* register by mail - print out the registration form below and mail to:
Qigong Women in the Wilderness
c/o Rebecca Kali
PO Box 750
Ely, MN 55731

* register by phone - call: 218-365-6330

* Register by email:


* * * * * * * * *
Qigong Women in the Wilderness Retreat
July 12 - 19, 2008

Registration:

Name: ______________________

Street: ______________________

City: _______________________

State: ____________

Zip Code: ________________

Phone: ______________________

E- Mail: ______________________

Amount enclosed: ___________

Amount enclosed: ___________
(a non refundable deposit of $400.00 will reserve your space)
balance due January 31, 2007
(installment payment options are available)

Checks, Money order, Master Card &Visa accepted

Card #_______________________

Exp. date: ____________________

Name on card: _________________

Signature: ____________________


~ Qigong Women in the Wilderness Retreat is an Immortal Sister's production ~
return to Qigong China Trip home page